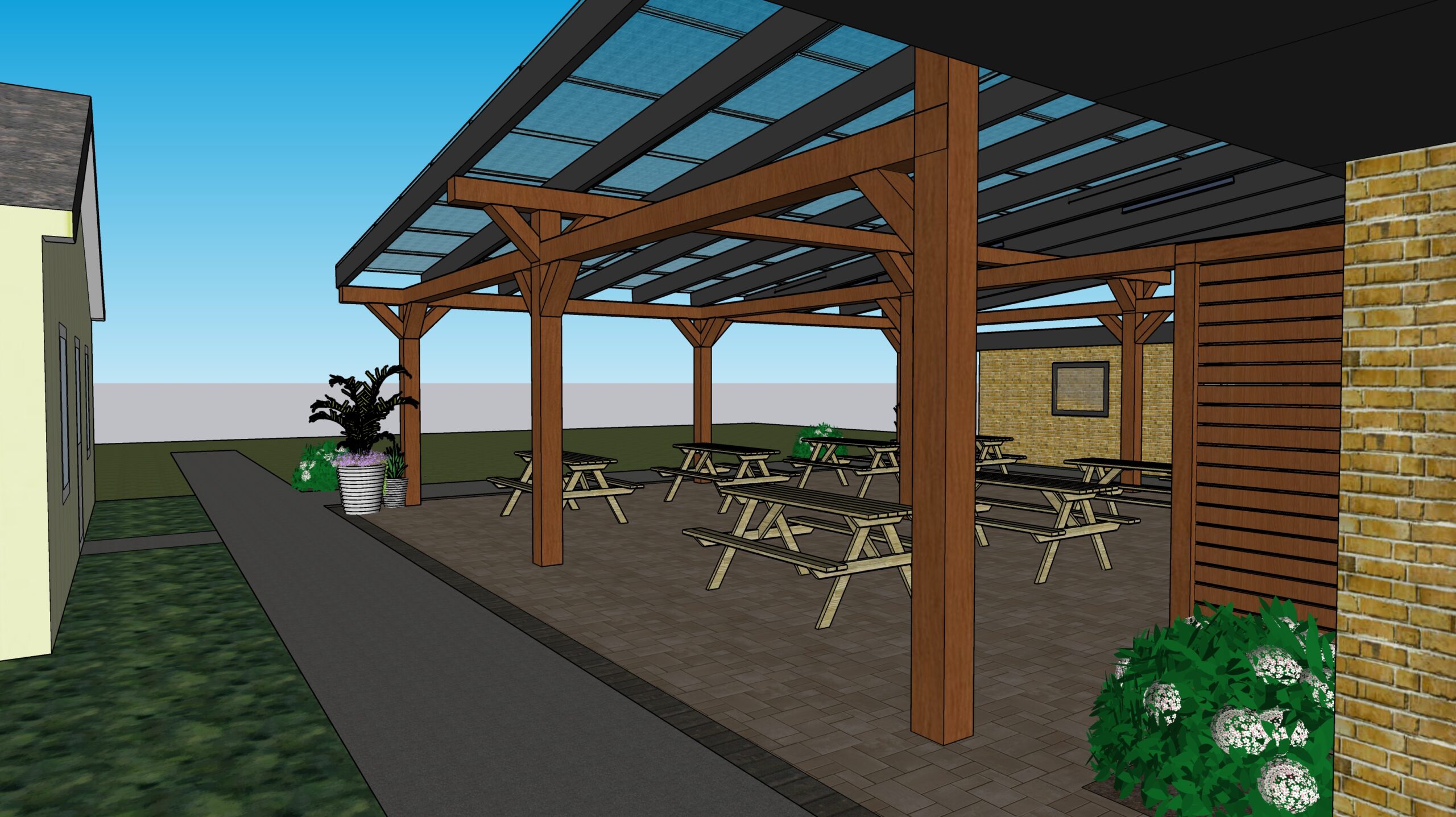 Good Shepherd Church
Carbon Neutral Initiative
Imagine walking outside on a beautiful Sunday morning into a welcoming, accessible space lightly dappled in sunshine. Before you is a wide, covered courtyard with picnic tables, an ideal space for learning and fellowship. Right away, you can picture outdoor services, classes, and fellowship. The pleasant shaded area seems ideal for socializing. And what you are seeing is also a space that creates carbon-neutral energy, produced by the solar array over your head. This vision could be a reality for us here at Good Shepherd.
Maple trees formerly shaded this imagined "court" area but it presently stands in bright sunlight. We should use that sunlight to further the Good Shepherd mission of Caring For Creation. We need a rapid replacement for the loss of our trees. We can do this while helping to keep the lights on (and create heat/AC) for the church.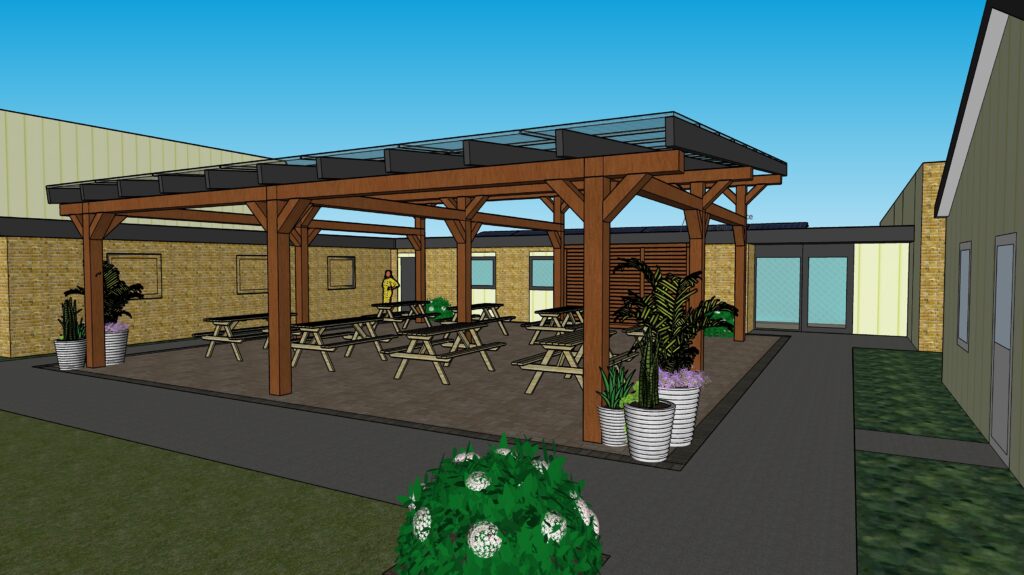 This Carbon Neutral Initiative represents a commitment to saving the earth that God gave us, both for ourselves and for future generations. It represents a concrete move towards reducing fossil fuel consumption. The technology is here, we can secure the funding, and the will is strong. Now is the time to make these changes. In a perfect world, we would all be carbon-neutral.
The path to carbon neutrality, in our highly industrialized nation, is a "walk down a long hall," and it requires leaders to show the way. Good Shepherd Church can be one of those leaders. We already lead in many ways that fulfill our mission, and care of God's Creation is part of that mission. With this proposal, we can make a remarkable final step toward achieving Carbon Neutral status, where our energy uses are entirely offset by renewable energy. By adopting new technologies, we can achieve our Carbon Neutral goal. We have already started in this direction. Now we have an opportunity to make the final and most significant progress yet.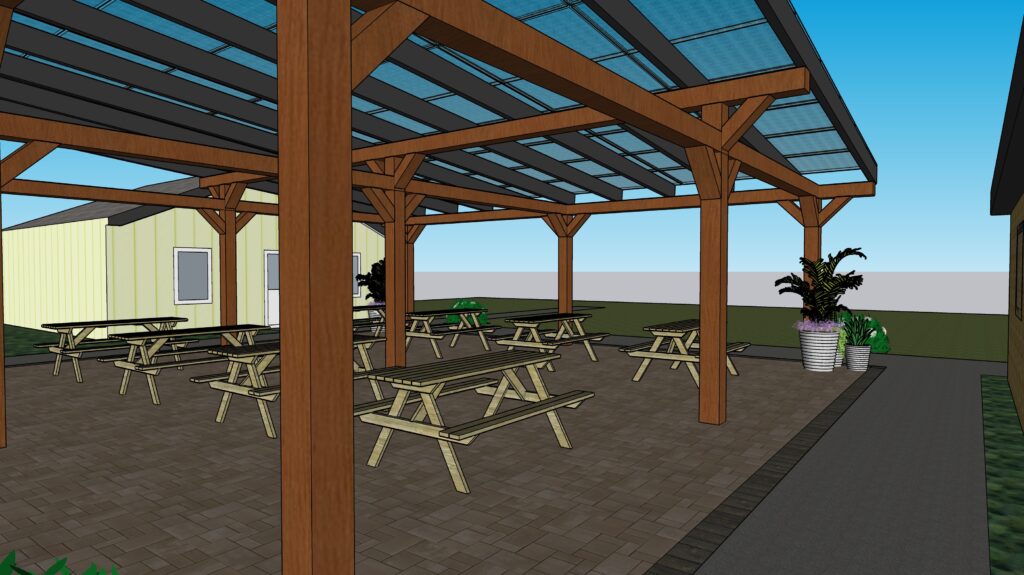 Good Shepherd Carbon Neutral Initiative
Mission Green, LLC – "a mission with a company"
Jim and Liz Fritz, owners
GOALS
Our proposal is to encourage the transition to a Carbon Neutral status for the church. That means our energy uses are entirely offset by renewable energy. Our Carbon Neutral goal can be achieved with this initiative, and the congregation has already moved in this direction. We can be leaders in the ELCA Caring for Creation initiative.
PROJECT PROCESS
(Phase One – complete)
Completed weatherization of doors and windows.
Installed additional insulation.
Converted entire facility to high-efficiency LED lighting.
(Phase Two – complete)
Remodeled Education Wing to utilize a highly efficient geothermal/VRF HVAC system.
Lessened our reliance on natural gas, but increased our electric usage.
Added 8 kW of solar panels.
(Phase Three – proposed)
The proposal by Fritz's Mission Green, LLC will create a solar array that produces solar electric energy and creates a shaded courtyard and replaces furnaces with heat pumps. This would be accomplished through a PPA (Power Purchase Agreement) LEARN MORE… and lease with Good Shepherd and Mission Green, LLC.
Adding a new 37'x37′ solar canopy on a post and beam pergola, as well as additional roof-mounted solar.
Replacing and removing the old, inefficient furnaces and A/C units currently on the roof with ground-mounted air-to-air heat pumps LEARN MORE…
Installing hardscape pavers/bricks to create a safe surface for outdoor church gatherings under the solar array
Relocating the Alliant electric transformer to the lot line on the east, near the Alliant pole.
Installing a new 600 amp electrical distribution panel and a wifi-enabled monitoring system for both solar arrays (new and existing).
Excavating and properly disposing of the existing underground fuel oil drum.
ADDITIONAL RECOMMENDATIONS for the project outside of the Mission Green proposal:
Other needed/desirable work that the congregation could elect to complete during this process includes:
Creating a large French drain system in the hole left by the fuel oil barrel to handle roof run-off (highly advisable)
This additional recommendation is outside the scope of the Mission Green, LLC. proposal and would require congregation commitment. However, it would be the most cost-effective to complete this recommendation during this phase of the project.
CLOSING
This proposal helps create clean solar energy that meets all of our current and future needs. This proposal would lead Good Shepherd Church toward a carbon-neutral energy goal and a leadership role in ELCA's Caring for Creation Initiative.
---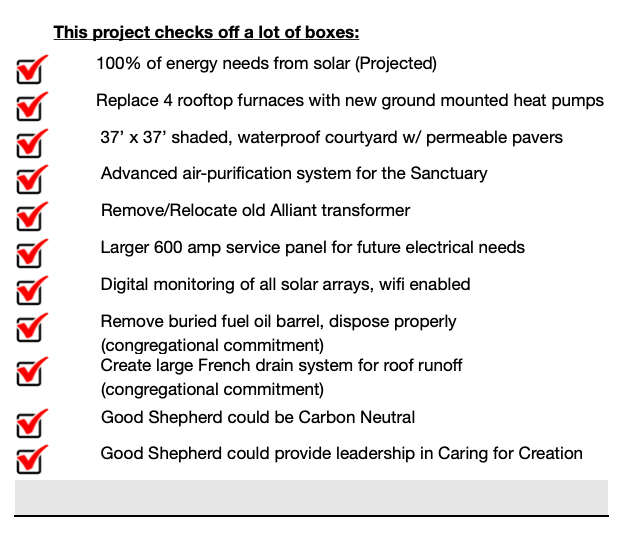 ---
Proposed Heat Pump Site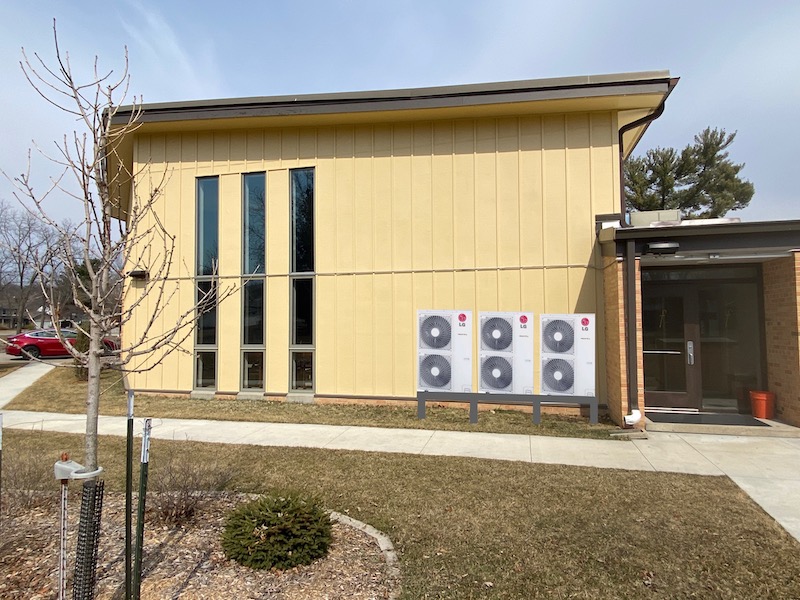 ---